American Eagle
American Eagle Fall Sale: Additional 40% off Clearance Items In-Store and Online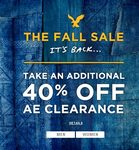 This deal has expired!
Here's a very good deal for fans of American Eagle merchandise. Right now, you can take an additional 40% off clearance items both in-store and online for a limited time. There's a decent selection available for men and women but sizes, styles and quantities are limited. To avoid missing out, we'd place an order online or book it over to your nearest AE location when you get a chance. Some of the items on sale include:
If you or someone you know is into American Eagle gear, now would be a great time to pick up some clothes on the cheap. We wouldn't wait to place an order, though, as selection is already starting to thin out.
Shipping is pretty hefty so it would be worth your while to head to a store or get a group buy going.