Abercrombie and Fitch: Up to 50% off Jeans and Sweaters (Ends 12/4)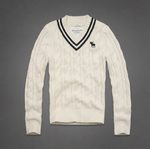 This deal has expired!
If you have some money left over from the Black Friday and Cyber Monday shopping from the last week, you might want to check out Abercrombie and Fitch where you can save up to 50% off on jeans and sweaters for a limited time. The promotion runs until December 4 but we wouldn't wait till then as sizes, styles and quantities are limited. We've provided some quick links below to get you started:
There's a pretty good selection available but, again, if you don't want to miss out you'll want to place an order online or head to your nearest A&F soon.
The deal runs until December 4.