Abercrombie & Fitch
Abercrombie and Fitch Short Sale: Up to 50% off Select Shorts (Ends July 24)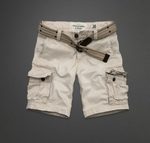 This deal has expired!
If you're still looking to pick up a few pairs of shorts for the summer, Abercrombie and Fitch has put a wide selection on sale with some even discounted by 50%. Those of you interested will need to act quickly, though, as sizes, styles and quantities are limited. The sale is only on for a couple of weeks too, so you'll want to place an order soon or you'll miss out. Here's a look at what's on sale:
No word on if these deals are also available in store so you'll want to place an order online if you're interested.
The sale ends on July 24 and shipping is extra.