kinnairdbagpipes.com
Get Yourself a Guinness Man - Free Shipping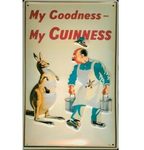 This coupon has expired!
Lisenced high quality t-shirts, rugby shirts, sweater, hats, and more! 
Pair a shirt with a bottle opener hat.  Popular styles include Irish Gaelic long sleeve, black and cream rugby.  Don't over look the "Tall Dark and Have Some" or cheeky "Are You Toucan To Me?"
Collectable.  Wearable.  Fashionable.  Great gifts for guys.
Purchase any 3 Guinness items recieve free shipping.