As the sole Vancouver resident on the RFD staff, I'd like to take a moment to eulogize the Vancouver Canucks' 2011-12 season/post season. We're still in shock in my house, despite having lived on the elimination brink since the end of game 3. We really believed things would turn around, how could they not? Well, now we know how...but instead of focusing on the pain of the game-5 overtime loss, we choose to focus on the many amazing moments that preceded it. And the many amazing moments that will follow it.
As Canucks fans, we know we aren't beloved by all. Even the most delusional member of the Canucks Nation can't deny that many people love to hate the team we love to love, but that's okay. We'll take the diving jokes and the riot jokes. We'll put them with the Luongo jokes and the fair-weather fan comments. And we'll bide our time. Because it will come. (It will come, right?)
The Canucks are dead. Long live The Canucks. And now, I guess, it's time to cheer for Ottawa. Go Sens!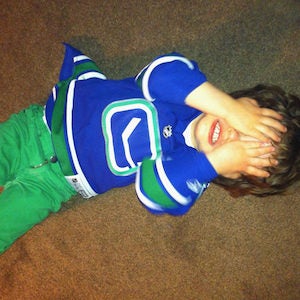 Amanda's son experiences the agony of The Canucks defeat. Turns out, it can be cured with ice cream and hugs -- take note, Vancouver.